Introduction
I enjoy playing Terraria in my spare time, and editing and maintaining this wiki. You can frequently find me in the chat. Feel free to talk to me there, or you can leave me a message on my talkpage and I will be happy to get back to you.
More About Me
I love to draw when I have the chance, I mostly specialize in animal portraits.
I enjoy photography 
I graduated from a 2yr college program in General Arts + Sciences
I have been playing console and computer games for as long as I can remember, and I still enjoy them today.
Some Handy Links
Special:Images

Special:Editcount
To Do List
- update and tidy Furniture page
- go through stubs
- update and fix Statues(partially done) page
- sort through image files, deleting poor quality/unneeded ones
- create any missing images
- add to image database
- add to data IDs
- 1.3.2 pages and images
- 1.3.1 missing pages
- 1.3.4 pages
- 1.3.5 missing pages
- clean up creation log
- Environments page
- Gold Chest page
- Console Version History update
- new templates for platforms

Screenshots
Below is a growing compilation of things that I have built, or screenshots of my gameplay experiences over the years.
Terraria Screenshots - Buildings/Sculptures

Jack-O-Lantern NPC House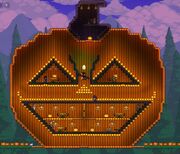 - This is the house I made during the 2013 Halloween event. It is made of Pumpkin, Pumpkin Wall, Spooky Wood, and Spooky Wood Wall. I used black paint for the eyes and mouth. I also used regular torches and various pumpkin furnishings and lighting. It is placed in the sky with a long pumpkin farm bridge on either side of it.
Ice Castle NPC House (Snow Biome)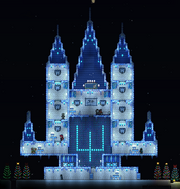 - This is my Ice castle located in the Snow Biome. I removed every snow tree and replaced them with differently decorated Christmas Trees. I used Ice Blocks for the main structure, and used Cloud Wall for the background. Blue Stained Glass fills the roof peaks and centre design. For decor I used various Frozen Furnishings, Ice Torches, and Ice Queen Trophies.
Pyramid Temple NPC House (Jungle Biome)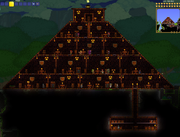 - This is my Pyramid style Temple NPC house in the Jungle Biome. My inspiration for this building comes from a real life temple in Mexico called the Temple of Kukulkan, also known as El Castillo. I used the Lihzahrd themed furniture for the decor and Lihzahrd Brick and Lihzahrd Brick Wall for the main structure. It features a small basement for chest storage and a tricky entrance to protect the NPCs within. On top I placed the Lihzahrd Altar, and inside are the Golem Trophies from several battles.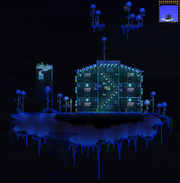 - This Structure was made on a server and is located on a Floating Island. I covered the island all around with mud, and planted a Mushroom Biome. Then I used cobalt brick and wall to create a blue theme. It has glowing snail cages throughout and glowing mushroom themed decorations.
Terraria Screenshots - Gameplay
Old Style Floating Island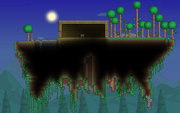 - This is what Floating Islands used to look like before they were given a significant overhaul. They had simple structures on top made with either Copper, Silver, or Gold Brick. The island itself also was a good source of silver and gold ore.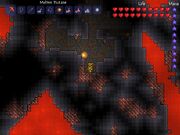 - Hellstone Ore was so much easier to mine in the earlier Terraria days because not only was there lots of it everywhere, but it also didn't turn into lava when mined. You can also see that it emitted light, making it easier to find.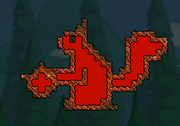 This is a squirrel structure I made a long time ago. It is filled with lava to give it a orange glow at night.
In Conclusion
I enjoy coming to this wiki to contribute positively and offer my help to this online community. I come here as often as I can, and if you see me in the chat, don't hesitate to talk to me and ask any questions you may have, I will be happy to help out as best I can!