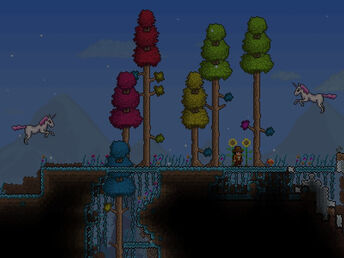 A Unicorn is a monster found in the Hallow. These monsters can run and jump very fast. It spawns only after Hard Mode; even if the Hallow is present before Hard Mode, they will not spawn. Although they are relatively common it can sometimes take a while for one (or more) of them to spawn. New Hard mode players should avoid this deadly creature.
Strategy
The Unicorn's AI is to charge at the player very fast, and jump over every hole in its path. This means that getting into a small hole in the ground can be an effective way to fight them. This is because they jump over the player (When the player is in a gap in the ground), and will make no contact.
It can also be avoided by jumping before it hits you causing the Unicorn to run under the player, stop and have to re-initiate its charge. This allows the player to get in a few hits.
It is recommended that you at least have a Cobalt Sword before fighting with a Unicorn, as "Average" knockback or above is recommended to keep any Unicorns at bay.
Spears like the Dark Lance or (if at least one of the Mechanical Bosses has been defeated) the Gungnir works amazing against the Unicorn, keeping them from getting close while dealing constant damage to them. It is not recommended to use the Spear or the Trident for obvious reasons.
Bugs
Unicorns fall through blocks if they are stuck in a 2 wide square.
On Console, they sometimes drop a shackle. Verify
It is possible during world generation to spawn a unicorn statue near a trap, and upon the player stepping on a pressure plate, a unicorn will spawn from the statue before hardmode is activated. Note that these unicorns will not drop any loot.
Statue Spawned unicorns can still drop blessed apples
Gallery
Update Info
Now has a chance to drop Blessed Apple.
Sprite updated.