The Throwing Knife is consumable thrown weapons that fly in a straight line until their blades start flipping in midair, at which point they fall to the ground. This makes them a very accurate short-ranged Weapon. This ranged weapon is suggested for beginners due to its abundant availability and relatively high damage compared to other early ranged weapons.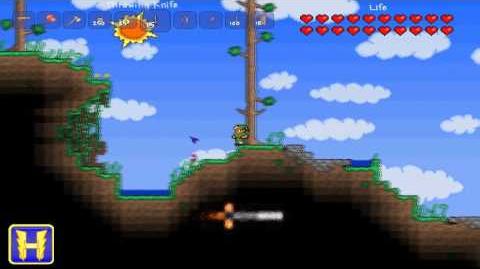 You can aim the Throwing Knife at an enemy that is straight above you, and if the enemy is close enough, the Throwing Knife will first pierce through, hitting once, and then hit again while it is falling to the ground.
Throwing Knives can be found as common chest loot and can be bought from the Merchant for 50 

during a Blood Moon. It can be upgraded to the Poisoned Knife, which can be crafted using fifty throwing knives and one Vile Powder/Vicious Powder. Throwing Knives can be useful on early bosses like the Eater of Worlds and the Eye of Cthulhu.
Update Info