Jurassic World: Dominion Dominates Fandom Wikis - The Loop
Play Sound
The Hallow is a magical but dangerous biome that is created once the Wall of Flesh in the Underworld has been defeated. It is an anti-Corruption biome and can be spread by planting Hallowed Seeds, throwing Holy Water, and with the Clentaminator. The Hallow is most effective when used to counter the spreading of Corruption; however, the corruption and hallow can still spread over each other, just very slowly.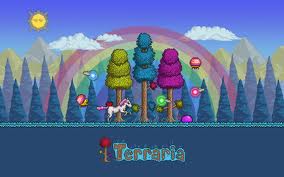 The biome has light blue grass and colored trees, and a rainbow can be seen in the background. It is home to Unicorns, Pixies, and, at night, Gastropods. This biome has two summonable bosses, the Queen Slime, and the Empress of Light.
The Hallow has its own, specialized underground level called the Underground Hallow. It is primarily made of Pearlstone, a white-colored Ebonstone-like block converted from normal stone. Much like Ebonstone, Pearlstone takes longer to dig than normal stone, and requires at least a Nightmare Pickaxe or Deathbringer Pickaxe.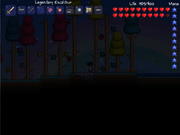 The Dryad will say what the percentage of Hallow and Corruption is in the world once the Wall of Flesh has been defeated. The Hallow can spread both on the surface and Underground.
Purification Powder has no effect on the hallowed ground, but Vile Powder can return hallowed ground to the default biome of the world.
The Hallow can provide a challenge to players new to Hardmode, so sufficient preparation is recommended.
Spreading
The Hallow can be spread above and below ground with Pearlstone Blocks, Pearlsand Blocks, Holy Water, Hallowed Seeds, or with the Clentaminator.
The rules for spreading The Hallow are as follows:
Notes
The Hallow shows some resemblance to the Forest in "The Lorax" by Dr. Seuss, except the tree has 3 layers in the hallow and "The Lorax" forest is a round ball-shaped tree.
Update Info