The Doctor's Shirt is a Vanity Item that you can equip in social slots. This and The Doctor's Pants make up The Doctor's Outfit. It can be purchased from the Clothier for 20 

. They are only sold the Day prior to and the Night of the Waning Gibbous Moon.
Trivia
This item is a direct reference to the 11th doctor from the television series Doctor Who.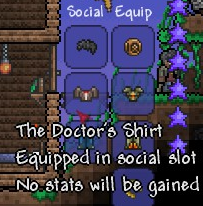 Update Info