Sunflowers are tall, yellow flowers that can stop the spreading of Corruption. It can also be noted that when one places a sunflower it seems to get brighter. They spawn in the forest biome, often in groups. The Sunflower can only be placed on a grass surface that is at least 2 blocks wide, and the surface can not have any back walls. They cannot be placed underwater.
They can be collected by hitting the block the flower sits on or directly mining the sunflower with a Pickaxe. Sunflowers also have the ability to spawn more sunflowers in a small area, but the chance is very low. This will only occur on grassy dirt blocks.
Sunflowers can be placed like any block, you just need the right condition (as mentioned above), have it in your inventory, and left click the ground.
As of 1.3.0.1, Sunflowers now give off light during the night time and give the player the Happy which gives the player increased movement speed and reduces the amount of monster spawns.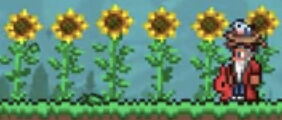 Notes
In 1.2, Sunflowers block The Corruption, but because they block only 2 tiles it will be able to cross a single Sunflower.
Butterflies swarm around sunflowers quite commonly.
Trivia
The Sunflower's in-game ability (stopping the Corruption) may be linked to their real-life ability, rhizofiltration​, which is when the sunflower removes toxins from soil; which can reduce radioactivity in an area they're planted in.
Info
Gives off light and gives the player the Happy Buff.
Will now reduce the Crimson's effects.