The Rocket Launcher is a ranged weapon that deals damage over an explosion area when fired. It has four types of ammunition, each stronger than the last. As with all explosive weapons (except Snowman Cannon), players can harm themselves by standing within the explosion radius of this weapon.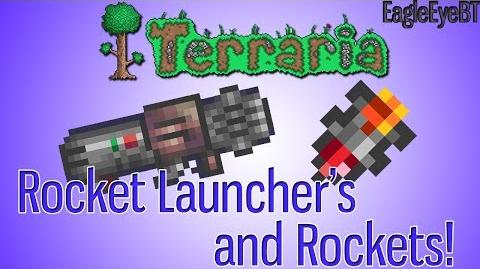 Ammunition
The Rocket Launcher uses four distinct types of ammunition, each very similar, that can effectively be used to determine how destructive the shot will be. The type of ammunition used does not affect the total distance or speed of the projectiles.
The available ammunition types are:
Note: All damage values are in addition to the 50 base damage of the weapon.
Reforging
According to forum posts and a personal reforging test with 10 Platinum it seems that the Rocket Launcher cannot be reforged to Unreal, thus Godly being the best prefix it can obtain as of version 1.2.0.3.
Notes
The Rocket Launcher could be really useful for mining if used with the Rocket IV, especially in the case of hellavators, although the player must be careful to not get too close.
There is an upgraded version of this weapon, despite already being a Tier 8 weapon. This weapon is the Snowman Cannon, which boasts an improved damage and refire rate, as well as homing capabilities. 
Update Info