The Rocket Boots are an accessory which allows a player to fly for a ~1.6 second period (approximately 100 frames) by pressing and holding the jump key in the air. The Rocket Boots will recharge as soon as you touch a solid block, grab any kind of Rope, or if you use a Grappling Hook or any grappling device. They are sold by the Goblin Tinkerer.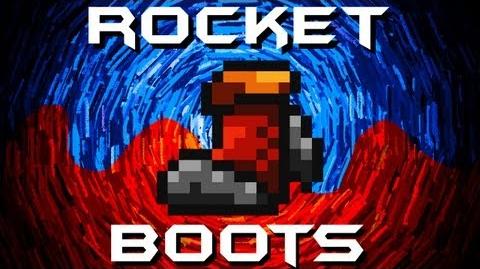 Notes
If the Cloud in a Bottle is also equipped, that item's effects engage on the first midair jump, and then the Rocket Boots engage on the second.
Rocket Boots can be combined with Hermes Boots at a Tinkerer's Workshop to make Spectre Boots, which combine both abilities in one accessory.
If a player uses a Cloud in a Bottle and/or Shiny Red Balloon, the total possible jump height can be increased significantly.
If the player is wearing Shadow Armor, the rocket effect's color changes to match the armor color. (This also works if said armor is equipped in the social slot.)
Although the Rocket Boots will not appear to activate if they are worn with wings, the player's jump height when both wings and boots are equipped will be higher than if only one or the other was equipped.
When combined with the Climbing Claws or Shoe Spikes, walls can be climbed infinitely.
When unequipping the rocket boots while flying causes flame particles to appear.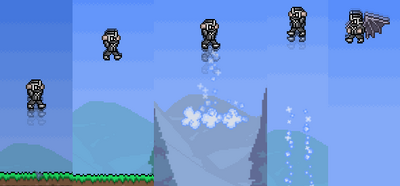 Update Info
Rocket Boots no longer use Mana, and lift speed was increased to offset the new 1-second lift duration.
Gallery