The Rainbow Rod fires a controllable orb similar to that of the Flamelash and Magic Missile, however, unlike the aforementioned weapons, the orbs change color whilst being controlled (only clearly visible at night or underground). The Rainbow Rod is the most powerful of all missile spells.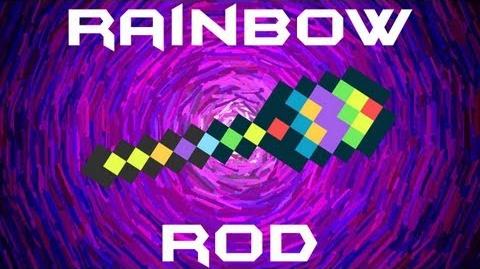 Notes
The Rainbow Rod is controlled with the cursor, and lasts for up to a minute.
When cast, the orb changes color in a spectrum similar to a rainbow, which in turn is a reference to the name.
The Rainbow Rod is an excellent PvP (Player versus Player) weapon:

It has a very high damage-to-mana ratio and fire speed, especially when reforged with the Mythical prefix.
It can bypass most fortifications.
Its speed allows it to be used as a last resort; firing a spam of rainbows in one direction will severely injure or kill players unless they dodge with wings.
Its ability for it to kill when the player using it is behind cover makes it the Terrarian equivalent of a drone missile.

Unless underground or it is night time, the player may not see the projectile change colors.
On Mobile, you require 10 Souls of Light instead of 8.
The Rainbow Rod's projectile travels at the same speed as the Mechanical Cart.

This means that huge numbers of projectiles can be stacked on top of one another, dealing massive damage on contact.
Bugs
The Rainbow Rod caused a bug where all others on a multiplayer game would get kicked to the dashboard (on Xbox) or freeze (PS3), unless the host was the one using it, in which case everyone but the host would be kicked to the dashboard/freeze.Fixed
If used at the bottom of the world and moved upward, at a certain area the projectile will disappear.
Update Info
Damage increased from 53 to 72 and Mana Cost from 10 to 18.
Gallery