Purification Powder is used to turn Ebonstone into normal Stone, clear Corruption and Crimson by turning corrupted grass to normal Grass, and to change Ebonsand into normal Sand. As of version 1.3, it is also used to obtain the Tax Collector by using it on the Tortured Soul. It is sprinkled in the direction of the mouse cursor.
It is a popular strategy that has been adopted by beginner players to easily reach Shadow Orbs, due to its nature of turning Ebonstone into regular stone, which of course can be broken by the lowest tier of pickaxe. However, gaining Purification Powder requires the Dryad, meaning you have to kill a boss first.
Purification Powder could be considered one of the most efficient ways to mine through corrupted blocks without high-grade equipment.
It's one of various other ways you can mine through Chasms along with Dynamite, and the Nightmare Pickaxe or higher.
Vile Powder is the opposite of Purification Powder.
One application of Purification Powder will cleanse an area of around 10-20 Ebonstone blocks. Most Shadow Orbs can be reached with two or three applications.
Purification Powder will not be available during blood moons.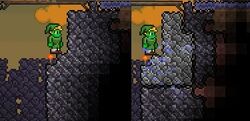 See Also
Update Info
Can only be purchased during the day.