The Piranha is a monster that can be fought against whilst underwater. They are quite similar to Cave Bats in terms of attack pattern, damage and armor, but move slower and are limited to underwater. Due to their low HP, Piranhas can be easily defeated by most mid-tier weapons.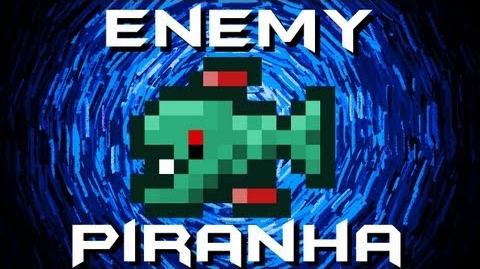 Location
Piranhas can be found most places, including the Jungle (both on the surface and in the Underground Jungle), in caves, and The Underworld. Piranhas spawn in water, no matter the size of the pond or lake. They also might spawn in lava, however they perish immediately afterwards.
Behavior
Piranhas seem to spawn in groups of about three if given sufficient time (about fifteen seconds). Piranhas spawn in larger amounts in both the Surface Jungle and the Underground Jungle, although they can be spawned anywhere else via the Piranha Statue. Piranhas also possess the ability to exit water briefly to attack you.
Piranhas also seem to spawn more at night than during the day. This may be because the world's tendency to be more evil at night, or to do with the massive amount of slimes not spawning. Piranhas will only move to attack if you are in a body of water (not necessarily the same body of water).
Notes
Piranhas will not "drown" outside of water.
Piranhas can spawn in Meteorite Biomes if the Meteorite lands in the Jungle near a body of water.
Bugs
Update Info
v1.2.0.3
Can now drop its respective Banner
v1.3.0.1
v1.3.2