The Philosopher's Stone is an accessory which is dropped by Mimics when killed. The Philosopher's Stone reduces the cooldown of healing Potions from 1 minute to 45 seconds, which is useful when fighting bosses or difficult monsters. As of 1.2, it can be combined with a Band of Regeneration to create the Charm of Myths.

The effect does not stack with the Charm of Myths. Wearing both will not reduce the potion cooldown to 30 seconds, but will remain at 45 seconds.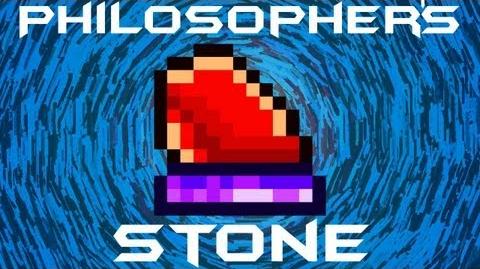 Trivia
It is based on a legendary alchemical substance said to be capable of turning base metals into gold or silver. It was also believed to be the Elixir of Life, granting immortality. (Not exactly a reference to Harry Potter, Fullmetal Alchemist, etc., as those are all based on the legendary stone as well. The actual myth dates back about a thousand years)
If it is equipped after a healing item has been consumed, it will not shorten the recharge time of that item.
Though the stone itself has historical origin, the appearance does allude to one of the philosopher's stones from the Fullmetal Alchemist series, being irregular and crystalline in shape, but more importantly being blood red.
it is also beileved to have been a referance from J.K. Rowling's best selling book series, Harry Potter. That referance is from the first book of the series, Harry Potter and the Philosopher's Stone.
Update Info