The Painter is a new NPC as of 1.2. He sells painting tools, cans of paint, wallpaper, and even a few paintings depending on where he is housed. He will spawn when you get a banner or painting of some sort and only if at least 7 other NPCs have moved in.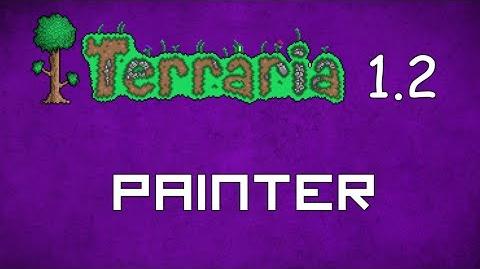 Defense
Uses a Paintball Gun against nearby enemies which he drops if he is killed.
Sells
Painter's Quotes
"Try swirly pink and purple, it works, I swear!"
"No, no, no... There's TONS of different grays! Don't get me started..."
"Check out <Party Girl NPC name>. Now that's a girl who can paint the town red!" (Only if you have the Party Girl NPC)
"I know the difference between turquoise and blue-green. But I won't tell you."
"I hope it doesn't rain again until this paint dries. That would be a disaster!"
"I'm all out of titanium white, so don't even ask."
"When you enter an hallowed land, you will see a rainbow in the sky. I can help you with painting that if you want." (Only in Hardmode)
Trivia
His names suggest that he comes from Italy.
His appearance is also strikingly similar to Mario's appearance in several of his earlier games.
Two of his names are 'Leonardo' and 'Raphael', referencing two renowned painters.
His quote regarding the many shades of grey could be a reference to the infamous book series, '50 Shades of Grey'.
His quote; "I'm all out of titanium white, so don't even ask." is a reference to the famous TV show painter, Bob Ross.
Update Info
Now defends himself with the Paintball Gun, also having a chance to drop it upon death.
Now requires a total of 8 NPCs to already have moved in before he is valid to move in.
The Old Man, Skeleton Merchant and Travelling Merchant are now excluded from the aforementioned count of 8 moved-in NPCs.
Now sells Brown Paint and various wallpapers.
Now sells Negative Paint and Shadow Paint in Hardmode worlds.
Now sells Christmas-themed wallpapers during Christmas.