The Meteorite Armor set consists of: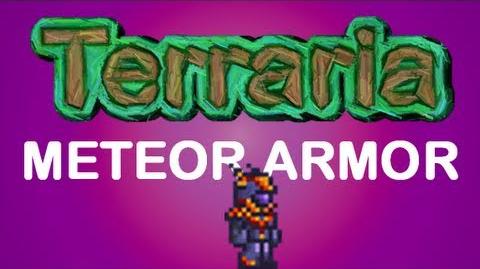 With the full set, the Space Gun does not need mana to fire and can thus be fired an infinite number of times, and will do three extra damage, for a total of 21 damage per shot without additional modifiers. A total of 65 Meteorite Bar or 195 Meteorite Ore is needed to craft the full set and the Space Gun. The Space Gun also makes the WoF (Wall of Flesh) boss fight easier as it does a reasonable base damage with a fast speed and unlimited ammunition while piercing.
When the complete Meteor Armor is equipped, visible flames will be emitted from the player during movement. As of version 1.0.6 the Meteor Armor no longer gives light when moving but it still retains the sparkly flames trail effect. The full Meteor Armor set must be equipped in the armor slots - not the social slots - for the set effect to work.
| | | | | |
| --- | --- | --- | --- | --- |
| | Defense | Bars required | Ore required | Other bonuses |
| Helmet | +5 | 15 | 45 | 7% magic attack bonus |
| Suit | +6 | 25 | 75 | 7% magic attack bonus |
| Leggings | +5 | 20 | 60 | 7% magic attack bonus |
| Set Bonus | N/A | N/A | N/A | Space Gun costs 0 mana |
| Total | 16 | 60 | 180 | 21% magic attack bonus |
Notes
The set bonus of the meteor armor does not affect the mana cost of the Laser Rifle. Be warned!
If the player uses mana items a lot, then meteor armor tends to be the best choice for apparel next to Jungle Armor.
A feature worth noting is that the suit in its entirety resembles a Space Suit, likely due to the fact that it is made from a space-related material.

The Meteor Armor emits the same particles as Molten Armor.
Update Info
Required bars to craft full set reduced by 5 each piece.
Defense of all pieces increased by 2.
5 less bars required in the crafting of each piece.
5 less bars required in the crafting of each piece.
Female version added.
No longer emits light.
Defense of all pieces reduced by 1.
Mana regeneration replaced by 5% increased magic damage for each piece.
Sprites changed.
Now decreases Mana cost of Space Gun to 0.