The Merchant is an NPC who appears when all players on a world have a combined total of at least 50 

and there is a Home for him to live in. Once the requirements are met, the Merchant will move into a vacant home in the player's world and begin to buy and sell items. When enemies are near, he will throw Throwing Knives at them.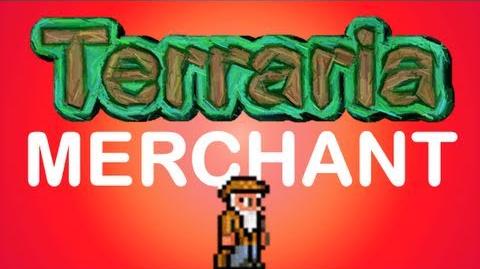 Sells
Merchant's Quotes
When prompted, the Merchant will say one of the following phrases, depending on the current time:

During the morning:
"Lovely morning, wouldn't you say? Was there something you needed?"
"Sword beats paper! Get one today."
During the day and the morning:
"The sun is high, but my prices are not!"
"Boy, that sun is hot! I do have some perfectly ventilated armour." (Despite not selling any defensive armour, except the mining helmet.)
"Sword beats paper! Get one today." (Although the Merchant doesn't sell swords.)
"Ah, they will tell tales of <character name> some day... good ones, I'm sure."
"<Character name> is it? I've heard good things friend!" (Usually heard the first time you talk to him.)
"Check out my dirt blocks, they are extra dirty." (Despite not selling dirt blocks)
"You want apples? You want carrots? You want pineapples? We have torches."
"The last guy who was here sold me junk... er I mean... treasures!"
"You have no idea how much dirt blocks sell for overseas." (Despite not selling dirt blocks)
During the evening:
"Night will be upon us soon, friend. Make your choices while you can." (Despite selling items at night.)
"Ah, they will tell tales of <character name> some day... good ones, I'm sure."
During a Blood Moon, "Have you seen Chith... Shith... Chat... The big eye?"
During a Blood Moon, "Keep your eye on the prize, buy a lens!" (Despite not selling any lenses)
During a Blood Moon, "Hey, this house is secure, right? Right? <character name>?"
During a Blood Moon, "Not even a Blood Moon can stop capitalism. Let's do business."
At night:
"I hear there's a secret treasure... Oh, never mind."
"Angel Statue you say? I'm sorry, I'm not a junk dealer."
"Kosh, kapleck Mog. Oh sorry, that's Klingon for 'Buy something or die.'"
"I wonder if the moon is made of cheese... huh, what? Oh yes, buy something!"
"Did you say gold? I'll take that off ya'."
"Money, Money, Money!" (Reference to ABBA / Killing Floor)
"I hope a scrawny kid like you isn't all that is standing between us and Cthulhu's Eye." (Eye of Cthulhu must not have been defeated yet in the world.)
"I feel like an evil presence is watching me." (If you have the requirements for the Eye of Cthulhu.)
Merchant's Names
Note: Upon adding a new name, make sure you add it in alphabetical (ABC) order.
Alfred
Barney
Calvin
Connor
Edmund
Edwin
Eugene
Finn
Frank
Frederick
Gilbert
Gus
Harold
Howard
Humphrey
Isacc
Joseph
Louis
Milton
Mortimer
Ralph
Seymour
Walter
Wilbur
Notes
Considering how easily one can obtain 50  within the first few nights of a new game, the Merchant is considered the easiest NPC to obtain (besides the Guide).
Sometimes on the iOS version you will get a second Safe on purchase.
Trivia
It is possible to have both your Merchant and Clothier named Alfred, but this is very uncommon.
Before v1.1, it was possible to get up to three Merchants in your world at a time. The second Merchant required at least 3 players with 50  while the third required at least 5 players with 5 .
The Merchant seems to be very interested in the Eye of Cthulhu.
Even though he states that he sells dirt, he does not buy nor sell dirt.
The Merchant sells Iron Anvils even in a world with Lead, thus allowing 1 of 2 ways of getting Iron anvils in a lead world. The others being an Extractinator, or bars from crates.
Update Info
The Sickle is now sold all year-round.
Now sells Nails when the player has a Nail Gun in their inventory.
Sells Tax Collector Outfit during Halloween.
Fixed a typo in one of the Merchant's first names.
Now sells the Bug Net.
Lesser Mana Potions are now always for sale.
Fixed a bug where the Merchant would not spawn if the player had over 21,000 .
Now sells the Sickle on Halloween.
Merchant duplication glitch fixed.
Now sells Rope, Marshmallows and Flares.
Is now designated a randomly generated name when spawned.
No longer possible to have multiple Merchants in one world.
Now sells Disco Ball after Hardmode has been enabled.
Glowsticks and Throwing Knives now sold by the Merchant.
Merchant's inventory of items for sale are now time-of-day and event-dependent.