The Mechanic is an NPC that sells items such as wrenches, wire cutters, levers, etc. One can find a bound mechanic in the Dungeon after defeating Skeletron. Right clicking on the mechanic will unbind her, and after that point it will be possible for the new NPC to move into a house. This works the same for the Wizard and the Goblin Tinkerer. Although the Tavernkeep and the Angler are found as well, they are different scenarios.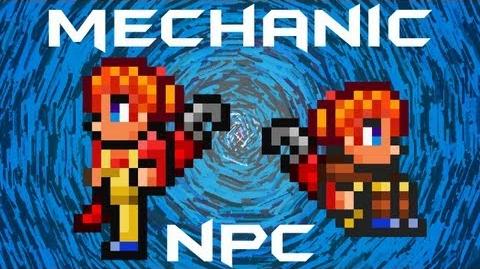 Defense
Throws her wrench that acts as a boomerang when an enemy is nearby. It appears that her wrench can pass through enemies, thus useful against groups.
Sells
Mechanic's Quotes
"Always buy more Wire than you need!"
"Did you make sure your device is plugged in?" (possibly a reference to 'The IT Crowd')
"(Arms Dealer's Name) keeps talking about pressing my pressure plate. I told him it was for stepping on." (Arms Dealer must be present)
"Hey, (Character Name), did you just come from (Goblin Tinkerer Name)'s? Did he say anything about me by chance?" (Goblin Tinkerer must be present)
"Oh, you know what this house needs? More blinking lights." (Might be a reference to a youtube meme where one person goes "You know what this map needs? Needs more sand.)
"But I was almost done putting blinking lights up here!"
"DON'T MOVE. I DROPPED MY CONTACT." (A reference to "Paper Mario and the Thousand Year Door")
"Hey, watch where you're going! I was over there a little while ago!"
"Hold on, I've almost got wi-fi going down here."
"(Tavernkeep's Name) offered me a Root Beer, I told him to give it to me in a square cup."(Tavernkeep must be present)
During Blood Moon
"Just-could you just... Please? Ok? Ok. Ugh."
"All I want is for the switch to make the...What!?"
"I don't appreciate the way you are looking at me. I am WORKING right now."
"Oh let me guess. Didn't buy enough wire. Idiot."
Being Unbound
"Thanks! It was just a matter of time before I ended up like the rest of the Skeletons down here."
Mechanic's Names
Amy
Autumn
Brooke
Dawn
Ella
Ellen
Ginger
Jenny
Kayla
Korrie
Lauren
Marshanna
Meredith
Nancy
Sally
Selah
Selene
Shayna
Sheena
Shirlena
Sophia
Susana
Terra
Trisha
Trivia
It would appear that the Mechanic and the Goblin Tinkerer are fond of each other, the first characters to show affection in Terraria (excluding the Arms Dealer and Nurse as they generally flirt with all of the opposite sex NPCs).
The Mechanic is one of four NPCs who don't give the "(NPC name) the (NPC type) has arrived" message. The other three are the Wizard, Guide, and Goblin Tinkerer, as the Guide spawns in a new world, but respawns with the message. Although the Mechanic, the Wizard, and the Goblin Tinkerer have to be unbound, they respawn with the message, like the guide.
The name Ginger might come from the NPC hair color which is orange or "ginger"
It looks like she's holding a Wrench on her back.
Update Info
Now sells Actuator and different colored Wrenches.
Can now be unbound while playing with autopause on. (bug fix)