The Magic Missile is a spell that summons a shimmering projectile that can be launched and controlled by pressing and holding the left mouse button. It also changes color throughout use.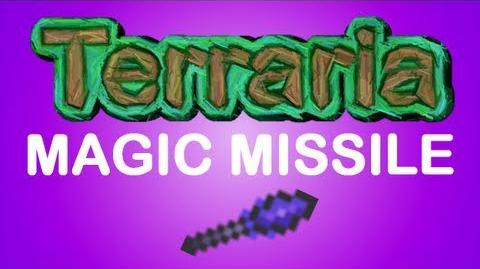 Notes
There is a delay from moving the cursor to moving the missile. The farther the missile is from the player the greater the delay.
The projectile is very similar in behavior to the Flamelash and the Rainbow Rod, with the ability to be controlled after firing, and dissipating upon contact with enemies or solid objects.
It also lights the surroundings much like a torch or the Flamelash spell, but the particles do not drop, therefore are less useful for exploration (besides the open ocean).
By moving the missile over a breakable object, one may obtain the items inside without actually coming into contact with them.
Trivia
This is, perhaps, a reference to Dungeons and Dragons in which magic missile is one of the lowest tier spells a wizard starts with.
The Magic Missile displays a particle effect similar to that of the Magic Mirror.
Bugs
The Magic Missile caused every player to crash (except if the host uses it, he or she will not crash) on the console versions as of release.Console(Fixed)
Because the cursor can go anywhere on the screen, you can use it to access chests or interact with items from far away, even off the screen.
In the iOS and Android version of Terraria controlling the missile will continue to create more missiles at the expense of using more mana. This makes the missile an effective high-damage weapon. This bug applies the same for the Flamelash.
Update Info
Speed of projectile increased.
Instead of disappearing, the projectile now launches upon releasing the mouse button.
Damage decreased from 32 to 22.
Mana per shot reduced from 16 to 10.
Gallery