The Hellfire Arrow is a type of ammunition found in Chests and Pots in The Underworld.
When shot, it creates a particle effect that illuminates the area. It creates a small explosion upon impact similar to that of a Grenade. They can be bought from the Demolitionist after enabling Hard Mode (defeating the Wall of Flesh).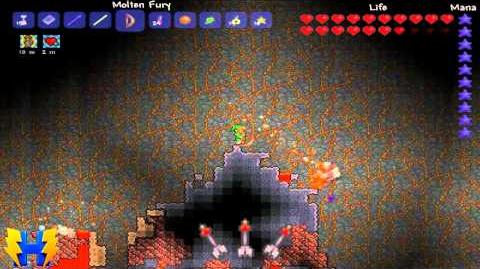 Hellfire Arrows are largely available after Hard Mode, being able to be found, crafted and bought. Pots in the Underworld can provide about 10 at a time and Wooden Arrows can be crafted into Hellfire Arrows in sets of 100 using one Hellstone Bar and 100 Wooden Arrows. Some consider these arrows as some of the best in the game, being widely available and inflicting heavy damage. It also does not damage the user, unlike exploding bullets.
Notes
Hellfire Arrows are found commonly in The Underworld.
Unsalvageable. When fired, it is destroyed immediately. However you can partially compensate that using anything that has a chance not to consume ammo..
The damage the arrow inflicts on its own is second only to cursed arrows, although the Fallen Stars from Holy Arrows easily out-damage them, Holy Arrows are even harder to obtain.
They can be purchased from the Demolitionist for 1 Silver each after Wall of Flesh has been defeated in The Underworld.
Bugs
When on a Grappling Hook, the stats change if hovered over, and Hellfire Arrows appear to have 16 damage, and an increased critical chance and knockback, up to 16 damage, and an insane knockback. 
Update Info
Hellfire Arrows no longer damage the user.
Crafting recipe changed - Torches removed, amount crafted increased to 100 and arrow requirement increased to 100.
Damage increased from 10 to 13.
Max stack increased from 250 to 999.
Hellfire Arrows became craftable and buyable
Ammo
Arrows
 Chlorophyte Arrow
 Cursed Arrow
 Flaming Arrow
 Frostburn Arrow
 Hellfire Arrow
 Holy Arrow
 Ichor Arrow
 Jester's Arrow
 Luminite Arrow
 

Spectral Arrow

 Unholy Arrow
 Venom Arrow
 

Vulcan Bolt

 Wooden Arrow
Bullets
 Chlorophyte Bullet
 Crystal Bullet
 Cursed Bullet
 Exploding Bullet
 Golden Bullet
 High Velocity Bullet
 Ichor Bullet
 Luminite Bullet
 Meteor Shot
 Musket Ball
 Nano Bullet
 Party Bullet
 Silver Bullet
 Venom Bullet
Solutions (Clentaminator)
 Blue Solution
 Dark Blue Solution
 Green Solution
 Purple Solution
 Red Solution
Rockets
 Rocket I
 Rocket II
 Rocket III
 Rocket IV
Unique
 Candy Corn
 Coins
 Blue Flare
 Cannonball
 Explosive Bunny
 Explosive Jack 'O Lantern
 Fallen Star
 Flare
 Gel
 Nail
 Poison Dart
 Sand Block
 Seed
 Snowball
 Stynger Bolt
 Stake