This page is about the monster. For the item, see Goldfish (Material). The Goldfish is a passive aquatic creature that spawns in any body of water. Like the Bunny, the Goldfish only has five HP and does not cause damage. Goldfish can be killed by anything which causes damage, including the player's weapons and hostile monsters. The latter usually leads to finding dead Goldfish in cave lakes, as well as pools above ground. When you catch a Goldfish with a Bug Net, you will obtain the item Goldfish (Material) (Which can be used to craft various things like the Bowl of Soup).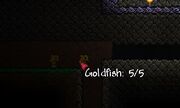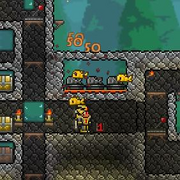 Notes
Goldfish can be corrupted if they spawn in the Corruption or during a Blood Moon, or if the player throws Vile Powder on them. Corrupt Goldfish have more health than normal Goldfish, have an attack value, and are aggressive. Like the Corrupt Bunny, once the Goldfish has become corrupt, enemies cannot kill it.
While it is raining, walking goldfish will spawn near NPC houses. While they are doing this, they will follow a similar AI to Bunnies and Town NPCs. This makes it somewhat annoying if you are trying to farm near a house that an NPC lives since they spawn no matter where you are (ex. The Underworld)
Goldfish seem to have a higher spawnrate during rain, but they may just be because they have more places to spawn.
If a Goldfish is without water, it will splash around on the ground, but not die.
Goldfish which are spawned from statues used to drop Goldfish. As of 1.2, this unfortunately won't occur anymore.
Corrupt Goldfish drop nothing.
Up to 188 walking Goldfish can be on screen at one time.
In the console version, you can still kill it and get Goldfish (Material).
Update Info
Can now spawn and walk on land during a Rainstorm.
Can now be attacked and killed.