The Goblin Tinkerer is an NPC added in the 1.1 update. He reforges items, giving them different stats. He also is a vendor NPC, which means that he can buy and sell items. He also exclusively sells the Tinkerer's Workshop, which is a crafting station used to combine accessories.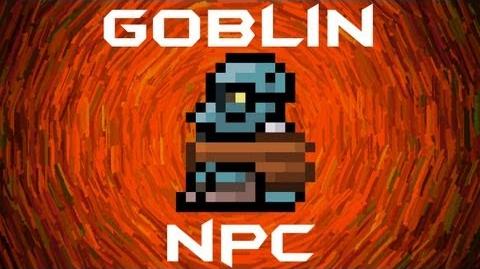 Locating Him
In order to spawn the Goblin Tinkerer in a world, the Goblin Army must be defeated at least once. He can then be found anywhere underground, even in the Dungeon, bound much like the Mechanic or Wizard. The Goblin Tinkerer will need to be rescued by right-clicking on him (pressing B on console). He may be found above or below sea level, though he is usually in the rocky layer. The player can make a pathway below sea level and run across it to spawn the Goblin (this may also work well with the Wizard) and then unbind him.
Once rescued, the Goblin Tinkerer will stay in the vicinity until a suitable Home is available for him. If he dies before he is rescued, he will respawn at a random location and will still need to be rescued. Reloading the game or dying after finding the Goblin Tinkerer without rescuing him will also cause him to respawn at a random location, which may be a pain. It is highly recommended to build a suitable house for the Goblin Tinkerer before setting out to find him. If a suitable house is available for him when you find him, he won't move in until he dies so that he can respawn near it.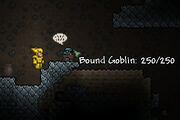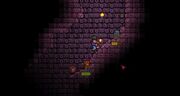 Defense
Tosses Spiky Balls at nearby enemies.
Sells
Goblin Tinkerer's Quotes
*(When released) "Thank you for freeing me human! I was tied up and left here by the other goblins. You could say we didn't get along well..."
"That mining helmet-flipper combination looked better on paper."
"Now that I'm an outcast, can I throw away the spiked balls? My pockets hurt."
"Looking for a gadgets expert? I'm your goblin!"
"Goblins are surprisingly easy to anger. In fact, they could start a war over cloth!" (A reference to the fact that you can summon a Goblin Army with the Goblin Battle Standard, which is made of Cloth.)
"To be honest, most goblins aren't exactly rocket scientists. Well, some are."
"I just finished my new creation! This version doesn't explode violently if you breathe on it too hard."
"Goblin thieves aren't very good at their job. They can't even steal from an unlocked Chest!" (Goblins can't take items out of chests)
"YES, Gold is stronger than Iron. What are they teaching these humans nowadays?" (Clear reference to the fact that gold is, in fact, weaker and not as durable as iron in reality, while it is actually stronger than iron in Terraria, or possibly a reference to Minecraft where gold is portrayed as weaker than iron.)
"Yo, I heard you like rockets and running boots, so I put some rockets in your running boots." (Reference to the "YO DAWG" meme in which a picture of Xzibit is shown saying he heard the reader likes two things and combining the two, And referring to the Spectre Boots.)
"Hey, does your hat need a motor? I think I have a motor that would fit exactly in the hat." (Possibly a reference to the anime series Doraemon, where the protagonist had a motorized hat that allowed the user to fly)
"Hey... what's (Mechanic's Name) up to? Have you... have you talked to her, by any chance?" (Mechanic must be present; he has a crush on her, vice versa with the Mechanic if the tinkerer is present)
"Silence is golden. Duct tape is Silver." (Possibly a reference to a demotivational image)
"Do you know why we all carry around these Spiked Balls? Because I don't." (Reference to the fact that all Goblins, with exception of the scout, drop spiky balls)
"I can't believe they tied me up and left me here just for pointing out they weren't going east!" (Only when talking in the dungeon, underground, or underground jungle. Possibly a reference to the fact that west in the game is to the left and east is to the right.)
"I thought you would be taller." (Possible reference to "Captain America: The First Avenger"
"I tried to visit (Stylist's Name) one time. She just looked at me and said 'nope'."
"Thanks for your help. Now, I have to finish pacing around aimlessly here. I'm sure we'll meet again." (Only when talking in the dungeon, underground, or underground jungle.)
Goblin Tinkerer's Names
Note: Upon adding a new name, make sure you add it in alphabetical order (abc)
Arback
Dalek (possibly Doctor Who reference)
Darz
Durnok
Fahd
Fjell
Gnudar
Grodax
Knogs
Knub
Mobart
Mrunok
Negurk
Nort
Nuxatk
Ragz
Sarx
Smador
Stazen
Stezom
Tgerd
Tkanus
Trogem
Xanos
Xon
Notes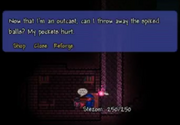 There is a chance that you can find him along with the Mechanic in the dungeon.
Judging by his dialogue, he appears to be an outcast from the Goblin Army.
When the Goblin Tinkerer remarks how the Goblin Army will fight over a cloth, it gives a clue on how to summon them using the Tattered Cloth. This might also be a reference to a quest in Runescape where goblins are fighting over a colored cloth.
One of his quotes refers to the fact that in reality, gold is a far weaker metal than iron. It could also be a reference to the game Minecraft (which is often compared to Terraria), where gold items are also inferior to iron items.
Another quote is a reference to an internet meme "Yo Dawg Xzibit". The quote goes: "Yo Dawg, I heard you like rockets and running boots, so I put some rockets in your running boots."
He seems to have a crush on the Mechanic and vice versa.
If the Goblin Tinkerer dies after being freed, he will respawn like any other NPC near your house and won't have to be freed again.
The Goblin Tinkerer, Party Girl, and Santa Claus are the only NPCs that stay in a normal state on a Blood Moon.
The name "Dalek", along with "The Doctor's Outfit", is a reference to the popular British television show Doctor Who.
He is slightly shorter than the player and the demolitionist, making him one of the smallest NPCs in the game
In the 3DS version, the Goblin Tinkerer does not sell the Ruler or the Toolbelt. This may be due to the small screen size.
Bugs
As of version 1.2 - 1.2.0.2 (remaining unpatched as of now) the Goblin Tinkerer's Reforge function can be used to duplicate certain weapons by specific movements of the mouse, and placement of the item in the box.
If you reforge using the language Spanish the object that you reforge may disappear.
Update Info
Can now be unbound while playing with autopause on.