The Giant Worm is an enemy that can be found underground. It is capable of quickly moving through walls (so you are not safe in a home with a background), and emits a characteristic shuffling sound as it moves through blocks that grows louder as it approaches the player. New or unsuspecting players may be caught by surprise due to their often sudden appearance.
Even for a player equipped with low tier gear, the Giant Worms' damage output and HP count is fairly low so you can pretty much ignore them while mining as your pickaxe will eventually kill them anyway. The most dangerous part is the knockback, which can easily fling a careless player flying into lava or a deep hole.
While mostly an annoyance later in the game, Giant Worms can be difficult for newer players to kill because of their speed, and their tendency to "hit and run" behind walls where the player can not quickly follow. Giant Worms also tend to follow players around, and can even follow them to the surface. It is best to fight them in an open area, rather than a small cave or tunnel. Although they are in the background, players can hit them with any weapon as they pass by, and can even hit them through walls if their weapons can reach.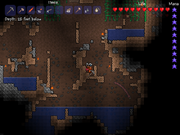 Notes
The Giant Worm, like all other burrowing creatures, can only "jump" a certain distance over the tile they emerge from.
As with all burrowing creatures, it is immune to lava damage.
The Giant Worm sprite is extremely similar to the sprite of the Leech.
The Giant Worm is normally the first Worm the Player encounters.
If you use the Magic Mirror while nearby a worm, it will follow you home and continue to attack you. This also happens with the Bone Serpent. It is possible other burrowing mobs act like this, though it hasn't been confirmed.
Ironically enough, the Giant Worm is actually the one of the smallest burrowing monsters in the game. The only smaller one is the Leech.
The two teeth on the front look kind of like power prongs making the worm look kind of like a power cord a big burrowing fleshy power cord but a power cord nonetheless
Update Info