Furniture are items you can add into your house. Different furniture items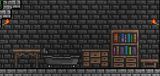 have various uses. Some furniture items can be used to craft certain items, others have no use at all. Some furniture can also be used to spawn NPCs. These are: torches, a table and a chair of any kind. The following is a list of all furniture items in categories:

Themed Furniture
Wooden Furniture
Special Crafting
Doodads
Doodads do not obstruct the movement of the player, but add detail to the environment. Doodads include, but are not limited to, stalagmites and stalactites, bone piles, rocks, weeds, grass, and more. Doodads must be removed before other background items such as furniture and torches can be placed. An important and rare doodad resembles a bag of copper, silver, or gold coins and will yield coins when broken with a pickaxe. Coin bags are often found in pyramids. Worms can be found in doodads.