Flails are weapons that fly out from the player and drop sharply almost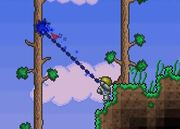 instantly, dealing massive amounts of damage and returning to the player after being thrown, passing through and damaging even more enemies.
They lie somewhere between melee and ranged weapons. They aren't good for fighting off enemies from multiple angles or single, fast-moving enemies. They are devastating against enemies with many segments or tightly-packed clusters of enemies, such as the Eater of Worlds.
As of patch 1.0.6, if you hold down the left mouse button the flail will now stay

out and not return to you, and, will continue to damage enemies while it is out. Also, the size of the flail's spiked ball has been reduced. As of version 1.1.1, flails can no longer be reforged with any size modifiers, ruling out Legendary and leaving the best prefix as "Godly".
As of 1.4, you can now spin a flail before throwing it.
Name
Base Damage
Knockback
Use Time
Rarity
AutoUse
Recipe
Value
Obtainable from
Chain Knife


11 Melee Damage
Weak
Very Fast
No
None
2 
Has a chance of dropping from Cave Bats
Ball O' Hurt


15 Melee Damage
Strong
Very Slow
No
None
54 
Found in Chests and Drops from Shadow Orb
The Meatball


16 Melee Damage
Strong
Very Slow
No
10 Crimtane Bar
5 Tissue Sample
54 
Crafted at an Anvil
Blue Moon


23 Melee Damage
Average
Average
No
None
54 
Found in Chests in the Dungeon
Harpoon

25 Ranged Damage
Average
Average
Yes
None
54 
Has a chance of dropping during Goblin Invasions
30 Melee Damage
Average
Average
No
None
1 
Found in Wooden Crates or from fishing in the Ocean
Sunfury

33 Melee Damage
Strong
Very Slow
No
None
54 
Found in Shadow Chests
KO Cannon

35 Melee Damage
Strong
Average
Yes
None
34 
Possible drop during Blood Moon event in Hardmode
Chain Guillotines

43 Melee Damage
Weak
Very Fast
Yes
None
2 
Possible drop from Corrupt Mimics
Dao of Pow

63 Melee Damage
Strong
Very Slow
No
1 Dark Shard
1 Light Shard
7 Souls of Light
7 Souls of Night
2  88 
Crafted at a Mythril Anvil or Orichalcum Anvil
Flower Pow

65 Melee Damage
Very Strong
Very Slow
No
None
6 
Possible drop from Plantera
Golem Fist


76 Melee Damage
Very Strong
Average
Yes
None
5 
Possible drop for the Golem boss
66 Melee Damage
Average
Very Fast
Yes
None
5 
Possible drop from Duke Fishron
105 Melee Damage
Very Weak
Very Fast
Yes
18 Solar Fragments
10 
Crafted at an Ancient Manipulator