The World of Terraria consists of many different types of Environments, also known as Biomes contained within Layers. These environments are characterized by unique enemy spawns, block formation, loot tables, and oftentimes a background.
For a list of all pages pertaining to environments, see Category:Biomes.
Layers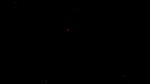 The sky is the area above the world. Most notably, it is the area in which Floating Islands are found, along with Harpies and, in Hardmode, Wyverns. At very high altitudes, near the world's upper boundary, the background changes to a black, starry scene and gravity is greatly reduced. This area is referred to as space.
Skybridges
are commonly constructed at high altitudes for fast travel around the world.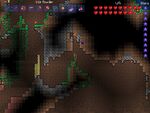 This area, despite being underground, is still considered to be above sea level. Therefore, the music will remain the same as the biome that's above it, and any monsters found within the dirt layer are also found on the surface, including Green, Blue, and Purple
Slimes
and at night -
Zombies
and
Demon Eyes
. If it's corrupted, hallowed, or crimsoned, the mobs that normally spawn at the surface will also spawn. You can also place blocks onto the background without needing to connect them to other blocks. Brown Chests are found most often here with very low powered loot.
Image desired
This layer is located just below sea level. You can tell when you've reached this layer when the background changes to a mix between dirt and stone, and when the music changes to the underground theme.
Gold and Brown Chests are found most often here.
Image desired
The Cavern layer comprises most of the Underground. After moving below a certain depth underground, lava starts to appear in place of water. In this area you can find the Glowing Mushroom Biome.
Gold Chests are found most often here.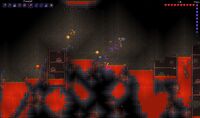 The Underworld, also known as Hell, Hades Land, or the home of the lava is a hellish realm (about 3500 Feet below on Large maps and 1700 on Small ones) that can be reached by digging past the stone layer. It is very easily identified by its background of stone with veins of Lava. It is primarily made of Hellstone ore deposits surrounded by Ash Blocks, with extensive pools of Lava. Chests with unique loot can be found here. The chests in the underworld are mainly Shadow Chests and require a Shadow Key to open. Hellstone can be used to make molten tools and armor.
The
Wall of Flesh
is a boss that can be summoned by tossing a
Guide Voodoo Doll
(From a
Voodoo Demon
you killed) into one of the many pools of lava within the Underworld. Defeating it will activate
Hard Mode
for your world. After killing the WoF, it is possible to have the underworld become infected by the spreading biomes, the
Corruption
,
Hallow
or
Crimson
. The background color change indicates this. The Wall of Flesh must be beaten for any of these to occur, unless you bring
biome-making
tools from another world that has
Hard Mode
on.
Major Biomes
Minor Biomes
Other biomes
Sword Shrine
The Sword Shrine is a rare biome that can be found underground. The biome contains a rock 'shrine' inside that may or may not contain a weapon. It is a 1/3 chance to be a real weapon, and a 2/3 chance to be a fake. Usually a long hidden vertical shaft will lead to the shrine. Additionally, The real shrine has a 9/10 chance to be an Enchanted Sword, and a rare 1/10 chance to be an Arkhalis.