See also: Dyes
The Dye Trader is one of the eight NPCs introduced in the 1.2 version. The Dye Trader will spawn when there is a home available and the player has a Strange Plant in their inventory. It is not possible anymore to get the Dye Trader with the Yellow Marigold in a player's inventory, as this was only a feature in 1.2.
Defense
Uses an Exotic Scimitar against nearby enemies.
Sells
Dye Trader's Names
Abdosir
Achmed
Ahinadab
Ahirom
Akbar
Batnoam
Bodashtart
Danel
Hannibal
Hanno
Hiram
Kanmi
Philosir
Sikarbaal
Tabnit
Yehomilk
Yutpan
Dye Trader's Quotes
"My dear, what you're wearing is much too drab. You absolutely must take a lesson in dyeing your tired attire!"
"I bring you the richest colors in exchange for your riches!"
"The only kind of wood I would bother dyeing is RICH Mahogany. Dyeing any other wood is such a waste."
"You have to do something with (pirate's name), It takes me a week to wash off! (only if the pirate is present.)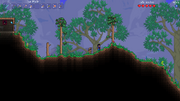 Strange Plant Quest
Speaking to the dye trader will show a "strange plant" quest. If the player chooses this option without having a strange plant, nothing will happen. However, if the player chooses it with a strange plant, they will have a random and rare dye.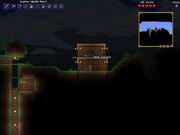 Update Info
"Strange Plants" option and quests added.
Now defends himself with the Exotic Scimitar.
Now sells Dye Trader's Turban, Shadow Dye, Negative Dye, and Brown Dye.
Now will only move in after any Pre-Hardmode boss has been defeated.
Updated sprite.
Now sells Team Dye on multiplayer servers.