This page is about the weapon, for the material see Cursed Flame.
Cursed Flames is a spell that can be crafted once hardmode is reached. The spell sends out a ball of fire much akin to the Flower of Fire, but is bright green in color. The Cursed Flames also travel faster, farther and they hit twice instead of just the once that the Flower hits. It doesn't wear off over time, unlike Crystal Storm, instead disappearing after hitting blocks 5 times.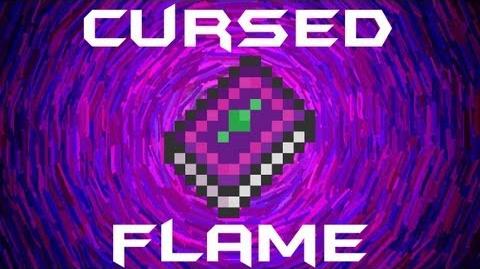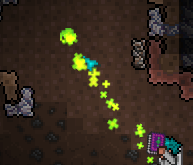 Notes
The Cursed Flames can pass downward and upwards through platforms.
This weapon is considered a counterpart to Crystal Storm, as they require opposite kinds of souls and do similar things.
The spell works underwater like most items/weapons that uses Cursed Flame. This is because Cursed Inferno cannot be extinguished by water.
The best Prefix for Cursed Flames is "Mythical".
This weapon is excellent for fighting in open spaces due to the fact that it can bounce 5 times before disappearing. Using this, it is easily possible to shoot a number of projectiles and then retreat, leaving enemies to die from the Cursed Inferno Debuff it inflicts.
This weapon is also very effective against Skeletron Prime. While Skeletron Prime's head is immune to the debuff, the hands are not, so the spell can easily take out the hands with the Cursed Inferno so that the player can deal with the head with hardly any hinderance.
Although it deals less damage than the Flower of Fire, the Cursed Flames has autofire, works in water, has a stronger debuff (Cursed Inferno compared to On Fire!), travels farther, can pierce a single enemy, and can be fired through Wood Platforms.
Trivia
This may be a reference to Luigi from the Super Mario Bros. series. The Flower of Fire fires a similar projectile to Mario's fire flower, while the Cursed Flames fires a green flame, similar to Luigi's respective ability.
It is also used by Spazmatism to attack the player, with the only difference being the fact that Spazmatism's attack is known as Eye Fire. Plus, unlike the Cursed Flames, the Eye Fire seems less affected by gravity, and doesn't seem to bounce off tiles.
Update Info
The Cursed Flames has been buffed:
Damage increased from 36 to 50.
Use Time reduced from 20 to 15.
Mana Cost reduced from 12 to 9.
Damage increased from 35 to 36.
Reduced the amount of Cursed Flames in the recipe from 30 to 20.
Reduced Mana cost from 14 to 12
Reduced the amount of Souls of Night in the recipe from 20 to 15.