The Crystal Ball is a furniture item which can be purchased from the Wizard. Once placed, the player can right-click on the Crystal Ball to receive the Clairvoyance buff. It also gives out an occasional glow that produces light. As of 1.2.3, it can be used as a crafting station when placed no more than 1 block away from a Water or Lava source.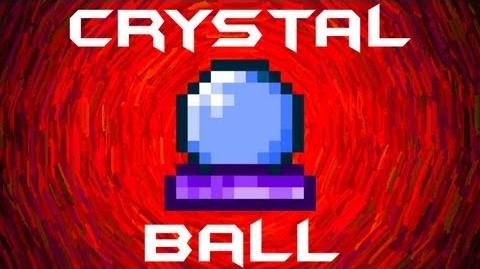 Notes

This buff can boost the maximum mana past the usual cap of 200 (this effect stacks with the Band of Starpower and armor set bonuses, allowing a grand total maximum mana of 400). Therefore, this makes Strange Brew, who restores 400 mana, very, very helpful.
The bonuses to the magical weapons stats are calculated after the modifiers from equipment and titles.
This buff is most effective with magical weapons with rapid fire, such as Crystal Storm and Magical Harp.
Occasionally gives out a glow, producing some light.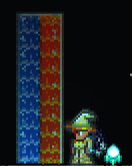 Update Info
Waterfall and Lavafall Walls are now crafted at Work Bench; now used as crafting station for Waterfall Blocks, Lavafall Blocks, Confetti Blocks and Midnight Confetti Blocks.
Used as Crafting Station for animated Waterfall Walls and Lavafall Walls.
Max stack increased from 250 to 999.