The Cloud in a Bottle is an accessory that allows the player to perform double jumps by hitting the jump key again in midair. It will also allow the player to perform a jump while falling, even if the fall did not result from a jump, making it one way to avoid fall damage. A "cloud jump" offers an additional jump of 5 blocks, for a combined jump height of 11 blocks. Its effect does not stack; you cannot equip more than one of any kind of accessory.
It is found randomly in all types of chests, including Dungeon chests, and it is used in the crafting of the Cloud in a Balloon and the Fart in a Jar.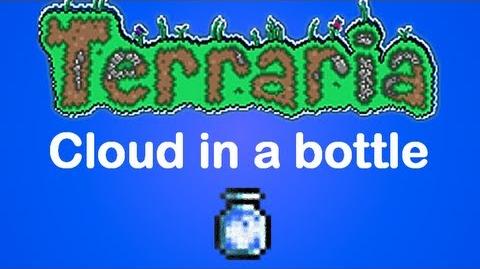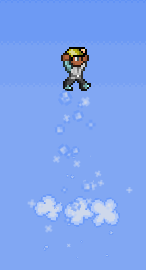 Notes
Rocket Boots stack with this item, allowing for a triple jump; the first double-jump activates the Cloud in a Bottle, and the second activates the Rocket Boots. Once you find the Rocket Boots, the Cloud in a Bottle becomes a lot less useful. Most players will then switch it for a more useful item, such as the Feral Claws or Anklet of the Wind.
The Shiny Red Balloon affects the double jump height of Cloud in a Bottle, increasing it from 5 blocks (10 feet) to 8.5 blocks (17 feet), for a grand total of 19 blocks (38 feet, including the initial jump).
If the Flippers are equipped and the player performs multi-jumps underwater, the player will not be able to perform a double jump upon exiting the water as the multi-jumps performed underwater count as a double jump (even though the double jump animations and sound effects are never shown).
When you are falling from a huge height, right before you hit the ground, double jump and you'll fall and hit the ground without taking any damage.
Its Quality is 1 (Blue) as of version 1.0.4 (3 (Orange) in earlier versions).
Other variations can be found of the Cloud in a Bottle. (Eg : Sandstorm in a Bottle..)
Jump height comparison table
Note: Due to the 1.2.0.3 update, Jump Height is increased, and statistics needs to be updated.

Maximum jump/flight height with different accessories

| Conditions | Height (Feet) |
| --- | --- |
| No Height Modifiers | 22 |
| Cloud in a Bottle | 38 |
| Shiny Red Balloon | 21 |
| Cloud in a Balloon | 38 |
| Rocket Boots/Spectre Boots | 74 |
| Rocket Boots/Spectre Boots and a Cloud in a Bottle | 88 |
| Rocket Boots/Spectre Boots and a Shiny Red Balloon | 102 |
| Rocket Boots/Spectre Boots and a Cloud in a Balloon | 110 |
| Angel Wings/Demon Wings | 97 |
| Angel Wings/Demon Wings and a Cloud in a Bottle | 105 |
| Angel Wings/Demon Wings and a Shiny Red Balloon | 132 |
| Angel Wings/Demon Wings and a Cloud in a Balloon | 146 |
| Angel Wings/Demon Wings and Rocket Boots/Spectre Boots | 229 |
| Angel Wings/Demon Wings, Rocket Boots/Spectre Boots and a Cloud in a Bottle | 236 |
| Angel Wings/Demon Wings, Rocket Boots/Spectre Boots and a Shiny Red Balloon | 303 |
| Angel Wings/Demon Wings, Rocket Boots/Spectre Boots and a Cloud in a Balloon | 317 |